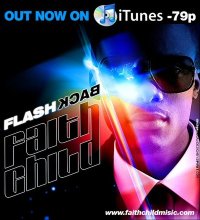 'FLASHBACK' is FaithChild's new single taken from the upcoming album 'ILLUMINATION'. The track features the rock tinged vocals of Alex, the stellar production of GP (D-Vine Music) and Faith Child delivering his own testimony and is out now on iTunes for just 79p.
Support UK Gospel Music!
CLICK HERE: iTunes Link – http://tinyurl.com/yd9q8jx.
ALSO REMEMBER : FRIDAY 4TH DECEMBER -FAITHCHILD ALBUM LAUNCH!!!!!!!! –
http://wwwfaithchildmusic.com